Showcasing the Pride of Ownership
Texas Dow Employee Credit Union (TDECU) called us when they wanted to re-energize their brand. We determined it was essential to communicate the key differentiator that credit union members are owners of the credit union, in contrast to customers at banks. TDECU improves people's lives by providing expert financial solutions and the service an owner deserves.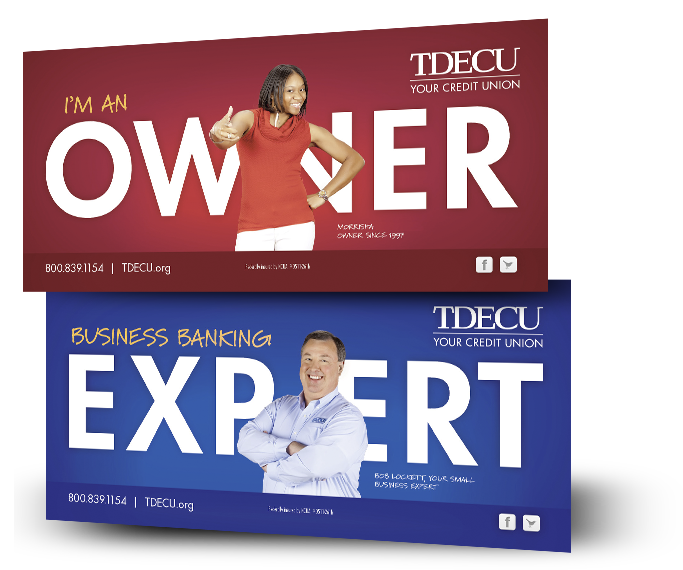 We recruited actual members to use in a series of ads focusing on the benefits of ownership – not just of the credit union, but your financial future.
We used branch employees and featured them in our experts series of ads including CUSO like insurance and investments. Click to review the pieces.
This campaign was used across many marketing efforts including direct mail. Click to see an example of credit card acquisition and auto refinance pieces.
We applied the campaign to lobby collateral including buckslips, brochures, lobby posters, static clings and more. Click to review some of the pieces.
The Design Spread to In-Branch Media Screens
The Results Were Beautifully Effective
Market surveys reported and reinforced the idea of ownership was very important to both members and non-members. People are more likely to switch financial institutions when they have a stake in ownership and are treated accordingly. Surveys also reported a lack of awareness for TDECU's variety of sophisticated product offerings.

We focused on a simple, yet engaging approach, which would trigger the public to switch. The best way to accomplish this was to capture the positive, emotional satisfaction an owner experiences at TDECU and play off of the rampant frustration others feel with their bank. We also applied these themes to collateral, in-branch materials and merchandise to reinforce the campaign at all touch points.